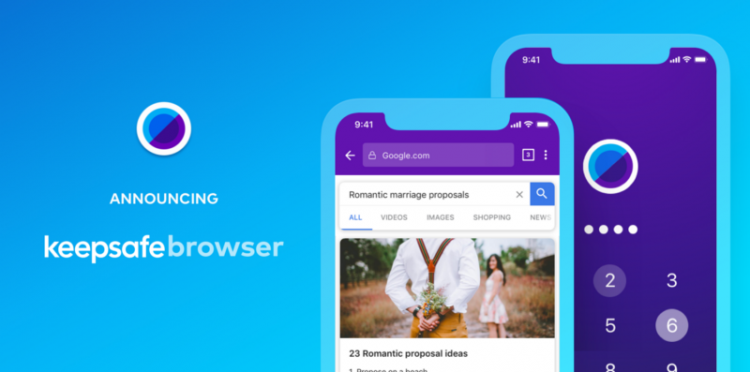 Today we're launching a new app for iOS and Android, Keepsafe Browser. It's designed to give people more privacy so they have more freedom to be themselves. In modern life, our phones are extensions of our brains. We explore the world around us and examine our personal lives by conducting searches on the Internet. We research practical information, and our searches also reflect our emotional state and private thoughts. People should be able to browse online without fear of being found out or followed.
Take for example, shopping for an engagement ring. Your search may reveal your dream to marry, your commitment to a relationship or simple curiosity. Your timing, readiness and follow-through are factors that make your web browsing private. Internet searches are like a window into our innermost fears and desires. This is why keeping these experiences locked down is important to Keepsafe — discreet browsing protects personal privacy and individuality.
We've developed Keepsafe Browser with one priority in mind: privacy. We don't track the sites you visit, and the app gives you personalized privacy controls.
Phone Privacy: Use a PIN-code to secure Keepsafe Browser
Privacy Controls: You decide whether you prefer to store cookies and urls locally to return to web pages and stay logged into sites.
Normal tabs are white and store cookies, caching and urls locally. (On Android, you can also clear this browsing activity.)
Secret tabs on iOS are purple and forget session data like cookies, caching and urls when closed.
More Data Security: Ad tracker blockers protect you from ad, social, analytic and content trackers.
Fast and Effortless: Table stakes for today's browser. Keepsafe Browser is no exception and like all of our apps, it's easy to use.
People who use Keepsafe have told us that only half of them trust their system browser (Chrome and Safari) to conduct private searches. They are looking for ways to look up sensitive topics, maintain privacy with a shared device without having to clear history or logout, and avoid being tracked by third-parties.
Since we founded Keepsafe in 2012, we've been on a mission to restore privacy to people's daily lives. Our family of simple privacy apps give more than 75 million people the ability to protect personal photos with Photo Vault, encrypt Internet activity with VPN, get new phone numbers for private texts and calls with Unlisted, and secure applications with App Lock. Today we've become the company we always envisioned: one that protects people's personal space and every aspect of their online life. But we're not done — we have more in store…
With Keepsafe's Private Browser, you'll never need to worry about others' seeing your searches. Only you know where you've been or where you're going. Give private browsing a spin and let us know how you like it!