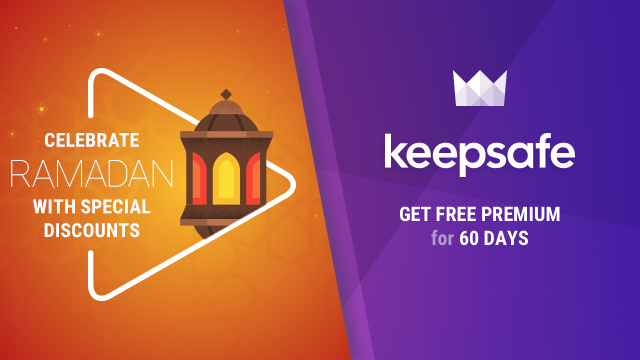 This month, we're partnering with Google Play to celebrate Ramadan! We're offering new customers who install Keepsafe Photo Vault on Android from June 8 — June 23 in Middle Eastern, North African and South East Asian countries 60 days to try Keepsafe Premium.
New customers in Arab Emirates, Saudi Arabia, Bahrain, Kuwait, Qatar, Morocco, Algeria, Tunisia, Egypt, Jordan, Oman, Libya, Turkey, Indonesia, Malaysia and Singapore get an extra free month to try Keepsafe's premium features during the holy month of Ramadan.
Keepsafe's top-shelf service gives people more control over their privacy, a place to be themselves and most importantly, peace of mind. Features include the ability to:
Protect Your Privacy
Album Lock: Assign individual PIN codes to access particular albums
Break-In Alerts: Takes photos of intruders and tracks break-in attempts
Secret Door: Disguises your Keepsafe as another app
Fake Pin: Creates a decoy Keepsafe with a separate PIN code
Manage Your Photos
Private Cloud: Store up to 5,000 items in Keepsafe
Space Saver: Compresses photos and saves originals to the Cloud
Trash Recovery: Retrieves photos you've mistakenly deleted
Personalize Your Keepsafe
Ad-Free: Keeps your photo-viewing experience distraction-free
Custom Album Covers: Sets album thumbnails to a specific image
Ramadan Mubarak!