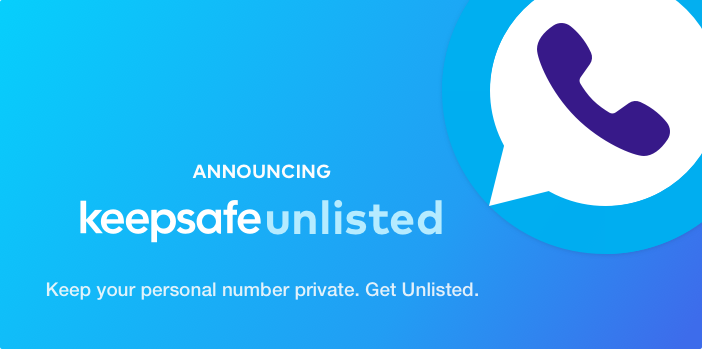 San Francisco, CA — May 16, 2018 — Keepsafe, the company that protects personal space with simple privacy apps, has made its first strategic acquisition with LineUp, an app that provides real phone numbers to protect people's private information. Rebranded as Keepsafe Unlisted, the acquisition adds another security touchpoint to Keepsafe's family of privacy and security applications. Keepsafe protects every aspect of your digital privacy: from what you have (Keepsafe Photo Vault), where you go (Keepsafe VPN) and now, what you say with Keepsafe Unlisted. Keepsafe Unlisted is available on iOS for iPhones and iPads, and will be available on Android soon.
Creating a new number for any situation, Keepsafe Unlisted helps users protect their primary phone numbers, and keeps texts and calls private. People can select and purchase an available phone number in the U.S. or Canada by location or preference — all it takes is creating a Keepsafe account.
"All of us naturally set boundaries for our physical privacy — those boundaries should be reflected in our digital lives," says Zouhair Belkoura, Co-Founder and CEO of Keepsafe. "Adding Unlisted to Keepsafe's family of products expands our offerings to everyday, real-time communication. With a Keepsafe Unlisted number, people can protect their personal privacy without limiting their ability to call or text."
Keepsafe Unlisted numbers can be used to make and receive texts, photos and calls with features like call forwarding and voicemails. Keepsafe Unlisted supports VoIP calls so no calls made will appear on a person's phone bill. Prices start at $2.99 per month per number. People's first number comes with ten free text credits and call minutes. Additional text and call minute packages are also available. Keepsafe Unlisted can be used for long or short term phone numbers.
---
About Keepsafe Software, Inc.
Founded in 2012 and based in San Francisco, CA, Keepsafe is on a mission to protect people's personal space. Keepsafe makes privacy simple in the digital world. More than 75 million people rely on Keepsafe's secure photo vault to protect their private pictures, videos and documents. For people who want control over their privacy, peace of mind, and the freedom to be themselves, Keepsafe locks down personal items so they stay private.