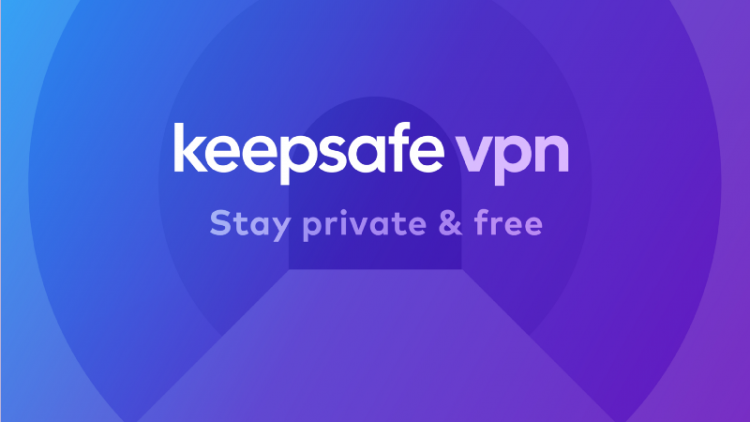 October 11, 2017 — San Francisco, CA — Keepsafe, the leader in personal space protection, expanded its offering by unveiling a brand new privacy app, Keepsafe VPN on iOS and Android. Building on its trusted name and brand, Keepsafe VPN offers consumers another layer of protection for safeguarding personal data. The company also announced Keepsafe Complete, a value-based subscription that includes unlimited, secure connections on Keepsafe VPN and premium privacy features across its entire family of trusted, mobile privacy protection apps. People can download Keepsafe's new mobile VPN here.
Keepsafe VPN protects people when they are browsing or shopping on public WiFi hotspots in common locations like cafes, libraries, hotels, airports and airplanes. A surge in digital privacy invasion and prying eyes makes this new offering a must-have for anyone using a mobile phone on an unsecured WiFi or cellular network.
"With Keepsafe VPN, people can now confidently keep their mobile browsing and app activity private — like it should be. Offering an easy way to protect personal content and now online activity on phones brings Keepsafe one step closer to fulfilling our mission: making privacy and security simple for everyone," said Keepsafe Software's CEO and Co-Founder, Zouhair Belkoura.
More than 62 million consumers have flocked to Keepsafe for control over their digital privacy, the freedom to be themselves, and peace of mind. Keepsafe's apps like Photo Vault, Calculator Vault and App Lock help people defend their digital privacy and protect private photos, videos, documents and apps by setting a PIN code or fingerprint touch ID password and using military-grade encryption. Keepsafe Photo Vault is the #1 top grossing photo app in the U.S. on Google Play, and #3 in the App Store.
With the recent U.S. law granting ISP broadband providers free reign to sell and profit from their customers' personal data and online habits (without their knowledge or consent), consumers are fighting back. Subsequently, VPNs are one of the most popular 'productivity' services downloaded on app stores.
However, consumers must employ a 'caveat emptor' (buyer beware) approach in selecting a virtual private network service. Caution must be taken with any free VPN. If a vendor isn't charging for the service, they may make money by collecting customers' online browsing data and habits and reselling it to third-party advertisers like Anchor Free's HotSpot Shield. A trusted, well-known brand is imperative. Unscrupulous vendors and criminals are cropping up, posing as VPN service providers, and are inserting malware, reselling consumers' data or worse.
Now for $9.99 a month, Keepsafe VPN provides people with unrestricted, encrypted connections that protect personal data, obscure their identity and hide one's location to browse any site from anywhere. Keepsafe VPN offers a number of other important privacy and usage features, including:
No logs: An important distinction to maintaining maximum privacy protection, Keepsafe VPN maintains zero logs of user activity. This means that there is no search, browsing history, or app usage available with Keepsafe VPN, even under a government request for user data.
Multiple devices: Keepsafe VPN may be used with unlimited devices. There are no restrictions or additional fees on the number of secure connections a person makes.
No data limitations: People can enjoy an "all you can eat" plan, as there are no additional bandwidth usage fees applied.
Auto-connect: Protects consumers for all of their online searches and purchases — all of the time. Keepsafe VPN auto-secures whenever they join a WiFi hotspot that hasn't been set as a trusted network. People never need to remember to use VPN or monitor bandwidth since Keepsafe VPN offers unlimited connections.
Easy-setup, easy-to-use: Download, sign-up and secure your Internet connection.
Secures all your apps: Encrypts your connection across all the apps on your phone.
Free Limited Trial, Pricing and Availability
Keepsafe VPN offers a free, 7-day trial, which can be canceled within one week of sign-up.
New Value-based Subscription: Keepsafe Complete
The company also announced Keepsafe Complete, a new value-based subscription service. For $9.99 per month, Keepsafe Complete provides people with one subscription for unlimited, secure connections using Keepsafe VPN and premium privacy and security features across all of Keepsafe's popular mobile apps: Keepsafe VPN, Keepsafe Photo Vault and Calculator Vault and App Lock (Android), which help people lock-down and protect personal photos, videos, documents, and mobile apps.
For more information about Keepsafe visit or follow:
Website: https://www.getkeepsafe.com/
Facebook: https://www.facebook.com/getkeepsafe/
Blog: https://blog.getkeepsafe.com/
Twitter: https://twitter.com/keepsafe
LinkedIn: http://www.linkedin.com/company/keepsafe-software
About Keepsafe Software, Inc.
Over 62 million people use Keepsafe's mobile apps to protect their personal space. For people who want more control over their privacy, the freedom to be themselves and peace of mind, Keepsafe makes privacy and security simple.
Press Contact:
Carmen Hughes
Ignite X
650.576.6444
press@getkeepsafe.com