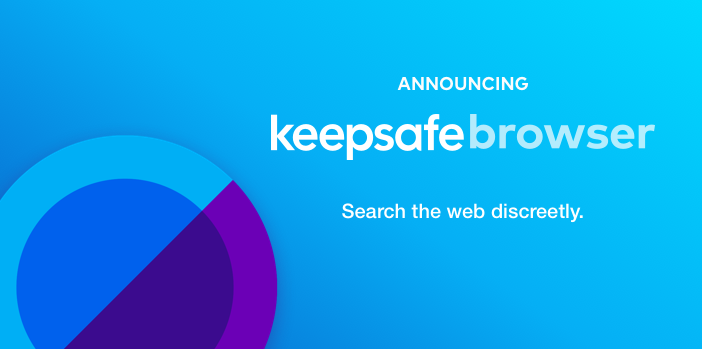 San Francisco, CA — June 19, 2018 — Keepsafe, the company dedicated to protecting people's personal space, has introduced Keepsafe Browser — a new app for private browsing so people can keep browsing history to themselves and protect their data from trackers.
The app squarely addresses trends in consumer behavior and people's desire for control and discretion when surfing the web. Keepsafe Browser provides a trusted space for people to look for sensitive information online, share a device with family or friends without needing to clear history or logout, and protect themselves from third-party tracking. The most private browser on the market by a brand over 75 million people trust, Keepsafe Browser allows you to lock down the app, use private tabs that delete all browsing activity, and turn on tracker blockers.
Keepsafe is rapidly expanding its family of privacy and security apps beyond its Photo Vault, VPN, Unlisted and App Lock apps. Keepsafe Browser's launch marks Keepsafe's third new privacy app introduction in the past nine months.
"Since its founding, Keepsafe has been on a mission to restore privacy to people's daily lives," says Zouhair Belkoura, Co-founder and CEO of Keepsafe. "Understanding the range of current privacy issues people today face, Keepsafe's Browser leads industry competitors with its discreet web browsing privacy controls."
Key features for Keepsafe Browser include:
Physical Privacy: Keepsafe's hallmark PIN-protection (with Touch ID, Face ID and Android Fingerprint) may be set to lock down browsing
Privacy Controls:
Normal tabs — Store cookies, caching and URLs locally (allowing people to conveniently return to frequently viewed web pages or remain logged onto favorite sites)
Secret tabs — Forget session data (cookies, caching, URLs) when closed
Better Data Security: Tracker blockers protect people from being followed by ads, social networks, analytics and content services
With Keepsafe's family of apps, no one will trace your digital life again. Keepsafe Browser is fast, intuitive and discreet. Keepsafe Photo Vault, VPN, and Unlisted apps give people the ability to protect personal photos, secure their Internet connection, and protect their phone number, private texts and calls.
Keepsafe Browser is available for free on iOS for iPhone and iPad and on Android.
---
About Keepsafe
Founded in 2012 and based in San Francisco, CA, Keepsafe is on a mission to protect people's personal space. Keepsafe makes privacy simple in the digital world. More than 75 million people rely on Keepsafe's secure photo vault to protect their private pictures, videos and documents. For people who want control over their privacy, peace of mind, and the freedom to be themselves, Keepsafe locks down personal items so they stay private.