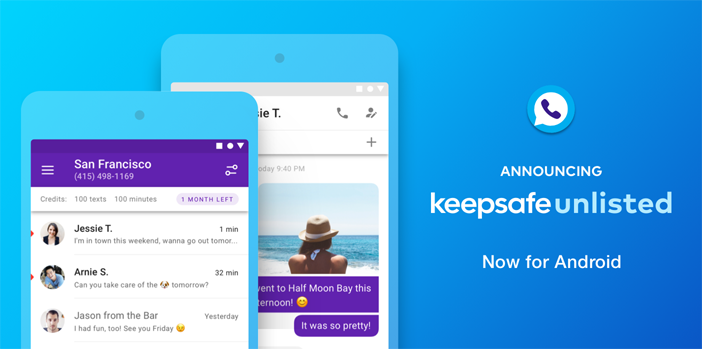 In May, we announced a new app for protecting your phone number: Keepsafe Unlisted on iOS. Today, we're happy to announce that Keepsafe Unlisted is also available on Android! Keepsafe Unlisted is a burner phone app for protecting your primary phone number and giving you control to keep texts and calls private.
With Keepsafe Unlisted, you can purchase new short or long-term phone numbers in the U.S. or Canada for as little as $2.99 per month. It's easy to sign up and affordable to use. Calls and texts are sent over your Internet connection. Calls use VoIP, ring directly to your device and won't appear on your phone bill.
How Does It Work?
Install the free Keepsafe Unlisted app on the

Google Play

or

App Store

.

Pick numbers (by location or area code).

Subscribe monthly or prepay. Cancel anytime!

Get 10 texts and 10 call credits free with your first number.

Start making and receiving texts and calls right away.
How Can I Use It?
There are many reasons for getting a secondary phone number to protect your privacy. Here are just a few!
Online Dating – Only give people you've recently met your secondary dating line to protect personal information and stay safe.
Freelancing and Side Hustling – Keep your personal life separate from work and only talk to clients and customers during working hours.
Teaching – Make yourself available to communicate with students and parents without giving out your personal number.
Travel – Use your U.S. or Canadian phone number to easily stay in touch with friends and travel when you're out of the country.
Business Lines – Use long-term Keepsafe Unlisted numbers for your online business or to have a North American presence.
Online Shopping and Phone Verification – Use secondary numbers so you don't end-up on robocall lists and marketing databases for any online purchases and transactions.
Android App Is Just As Easy As iOS
Buy as many numbers as you need.

Purchase text and call credits when you need them. Credits are shared across all numbers and never expire

Send and receive photos too

Set call preferences like: voicemail greetings (custom and standard), send calls directly or ones missed to voicemail, and call forwarding
More features for Keepsafe Unlisted on both platforms are also on the way! In coming months, we'll introduce even more ways for people to protect their privacy and conveniently send and receive texts and calls. Get a new number and live a safer, more private life today.