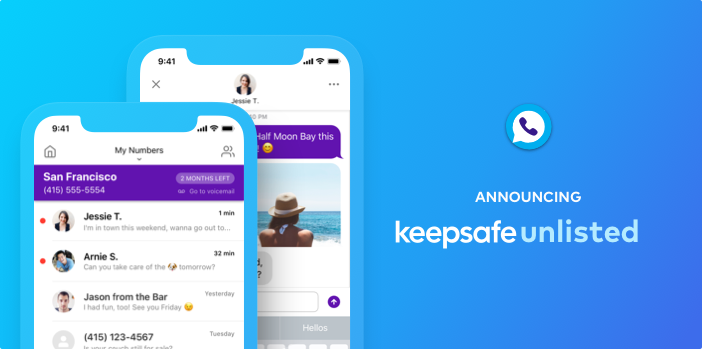 At Keepsafe, our mission is to make privacy and security simple for everyone. Now more than ever, people need easy-to-understand solutions to take control of their digital privacy.
Today, we're unveiling a new iOS app called Keepsafe Unlisted: short and long-term phone numbers for private texts and calls to protect your personal information. With Keepsafe Unlisted, we're welcoming another product into our family of simple privacy solutions.
In recent years, we developed Keepsafe Photo Vault to help people protect private photos and videos on their devices. We made Keepsafe App Lock to secure people's mobile apps. Last year, we introduced Keepsafe VPN to help people browse safely and privately.
With Keepsafe Unlisted's introduction, we're also announcing Keepsafe's first strategic acquisition. Keepsafe recently acquired the popular iOS app LineUp (and lucky for us, its fabulous founding team). LineUp had characteristics we admire: it elegantly solved a pressing privacy need for people, its app design was easy to use, and it had transparent pricing.
Today, we've rebranded LineUp as Keepsafe Unlisted. Whenever you create a Keepsafe account — whether it's for Photo Vault, App Lock, VPN, or Unlisted — your account works across all of our apps. Keepsafe Unlisted also has a new app icon, Keepsafe's signature look and feel and an even more intuitive design.
Here's how Unlisted works:
1. Choose phone numbers in any U.S. or Canada location.
2. Easily send and receive private texts and photos.
3. Stay in control of VoIP calls you make and receive (and never appear on your phone bill) with features like call forwarding and voicemail.
4. Buy text and phone credits as you need them.
People who use the app tell us Unlisted protects them in today's world by:
Staying safe when dating or buying and selling online.
Keeping personal and work lives separate.
Travelling, conducting business, and nurturing personal relationships from abroad.
Everyone should be able to enjoy a robust online life, whether they have a side hustle or live like a digital nomad, while controlling the personal information they share. This is why we're bringing second phone numbers and burner phone apps into the mainstream with Keepsafe Unlisted. It's a new way for people to protect their identities and personal privacy.
We want to hear about how you use Keepsafe Unlisted, as well as how we can improve the product and address your other privacy needs. Join Keepsafe's Privacy Movement to beta test our products and talk to us about your experience.
Keepsafe's acquisition and Unlisted's launch are only the beginning of how we'll achieve our vision. In months to come, we'll bring Unlisted to Android and add even more privacy and security features. The best is yet to come!