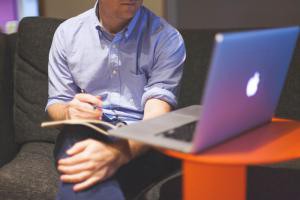 Frank is a 30-something living in the US, and has volunteered to share his user story with the Keepsafe Community using a fake name. He combines his love of photography, cooking, and shopping into a lifestyle blogging business. The teams he directs for his lifestyle blogs view promoting health and positive body image as a top priority, and Keepsafe facilitates their workflow.
Frank and his team organize blog photos, articles, and evolving ideas inside of their Keepsafe accounts. "I have models and submissions to review, and [I] like a place to keep things sorted and safe, so that I may protect the rights of all submissions and the photos don't fall into the wrong places," says Frank.
What excites him most about Keepsafe's upcoming features? Frank is a beta tester for Keepsafe's soon to be released ephemeral in-app private messaging. What does Frank love about it? It will allow him to coordinate his team's workflow even more securely. He will be able to send items back and forth between his entire team privately — without anything ever needing to leave the app's encrypted and PIN-protected environment. "Well for me, it's a bit of a busy year so I look forward to being able to send private messages back and forth to my creative team while traveling. Knowing that the information is safe makes the app even more appealing," says Frank.
Why is Fake PIN his favorite Premium feature? He likes how he can avert unwanted attention away from his main Keepsafe, while also storing extra items in a private and organized manner. "I use the Fake PIN when I believe someone is spying, or simply I know they're trying to break into the files. In the Fake PIN [version of my] Keepsafe, I just have files that I would rather not have clogging my camera roll, simply screenshots of quiz results and silly stuff."
Frank takes protecting his blog's content prior to release seriously, and he also uses Keepsafe for his personal photos. He values separating his professional and personal life. In other words, he wants to share, but not overshare, or share out of context. His work colleagues don't need to see pictures of his significant other, or pictures of his credit cards or bank statements. As Frank says, "If I ever pass my phone off to someone while I'm busy I know that they'll never run across something inappropriate."
Want to share your What's in My Keepsafe story? Sign up and tell us about it here!
---
Originally published at blog.getkeepsafe.com on September 9, 2015.