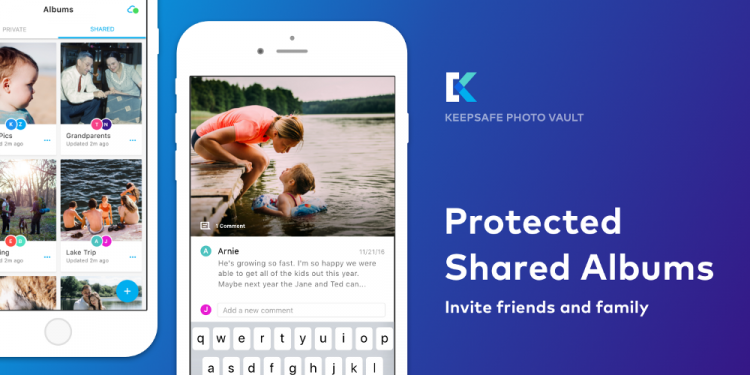 Everyone and their mother has now learned just how much data Facebook has been collecting about people and sharing with third-parties. It's not surprising that 51% of Americans don't trust a company with such an extensive history of privacy scandals.
For most people though, leaving Facebook is daunting. Even if your conviction is strong about data privacy, you don't want to abandon friends and family. If you live far away, you worry about missing pictures of loved ones' kids growing up. And if you really want to detach yourself from Facebook's data tracking empire, you'll have to delete Instagram and WhatsApp too.
Keepsafe Photo Vault's Shared Albums are here to save the day. We developed Shared Albums with families and groups of friends in mind. We wanted to give people a more protected photo-sharing experience. That's why anyone invited to a shared album gets a one-time invitation code and has to create a PIN-protected Keepsafe account in order to access shared pictures.
Keepsafe Photo Vault has two tabs:
Private
For locking down personal photos and videos (that you don't want to be exposed in your phone's camera roll or gallery)
Shared
A protected place for sharing pictures and comments with friends and family
Keepsafe Photo Vault can also help you avoid sharenting — when parents over-share pictures of their kids on social media. With Shared Albums, you can protect your children's safety and privacy and still show grandma daily photos. You can even exchange comments and use the pictures as conversation starters to catch up with the people you care most about.
We've also designed a chart to help you find the best solution for protecting (and sharing) personal photos. We've noted privacy features and potential pitfalls.
At Keepsafe, we design mobile apps for the sole purpose of protecting your privacy. Keepsafe Photo Vault with Shared Albums is photo storage and back-up that locks down personal pictures behind a password-protected PIN screen. It's simple to use, and we apply military-grade encryption to protect your data. Try it and let us know how it works for you!