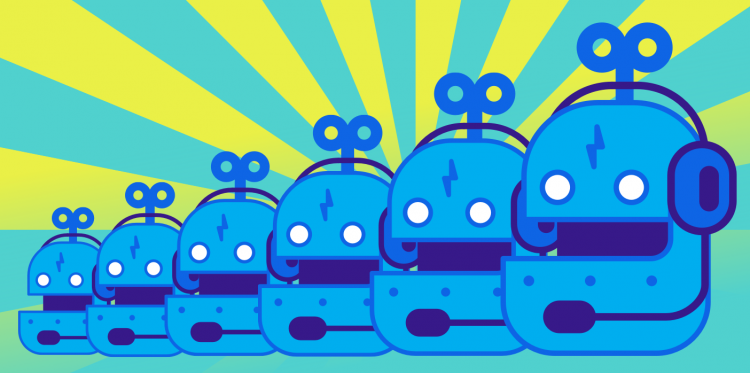 If you're one of the 95% of Americans who owns a mobile phone, you've likely noticed the alarming increase of spam, telemarketing and robocalls over the last few months. You may have even researched changing your number, getting a spam call blocker, or burner phone.
From the Chinese robocall parcel scam targeting Chinese Americans to the racist & sexist robocalls in Georgia that attacked gubernatorial candidate Stacey Abrams, robocalls have gotten out of hand. There seems to be no end in sight.
In 2018, robocalls in the US increased 33% as compared to 2017. Last August broke records with 4.2 billion robocalls made in one month. That's an average of 13 robocalls per US citizen every day!
With the increase of robocalls comes easier methods of farming phone numbers. While the Better Business Bureau tells consumers to be careful who they share their number with, the real ways robocallers acquire your number and personal information are more malicious.
Here's a list of ways telemarketers and robocallers may have acquired your phone number:
Directly From Your Mobile Carrier
If you are an AT&T, Verizon, Sprint or T-Mobile customer, chances are your location data has been sold to third-party data aggregators. Back in May of 2018, carriers we're caught selling consumer location data that was accurate enough to pinpoint your exact location in real-time.
It gets worse. If you were a Verizon or AT&T customer before 2016, your phone number, billing address and location data were likely sold to third-party companies through the use of your mobile IP address.
Restaurant Waiting Lists
Restaurants have a history of integrating technology with the dining experience, from replacing menus with tablets to even serving food on iPads. But there's a more harmful practice underway that operates behind the scenes. It revolves around customers giving their mobile numbers to restaurant waitlist apps.
CNET reported that waitlist applications have privacy policies permitting them to repurpose, share and sell your data to other companies within and outside of their network. Here you thought you were just volunteering your phone number so they could notify you when a table became available!
Charities
Next time you want to donate to a charity, make sure to read their privacy policy first. Some charities will sell or share donor information to other charities or telemarketing companies to supplement their revenue. (Sometimes the price for people's private information outweighs their donation amount.)
You can avoid donating to charities that sell your information by checking their Privacy Policy summaries on services such as Give.org.
Data Aggregation Platforms
Running behind the scenes, these data companies scour the web, aggregating your information so they can sell them to businesses. Services like DataFinder, scrape data from public channels on social media and forum boards to build a comprehensive profile of you.
Many services provide the means to "opt out" and remove your profile from being shared with third parties, but finding each data platform with your profile is time consuming. Check out Motherboard's write-up on top data broker sites that you can opt out of.
Contests & Sweepstakes
Contests and sweepstakes are one of the more deceitful methods of collecting and selling user data. These can be found in the form of pop-ups marketing a free iPhone, or a car giveaway in the mall (which turns out doesn't even include the car).
Entering into one of these contests can lead to never ending robocalls from telemarketers, and in some cases, contests can even remove your number from Do Not Call lists. Be wary when entering sweepstakes and make sure to read the Terms of Service before signing over your information.
Calling 800 or 900 Numbers
In 1995, The Federal Communications Commission made it legal for 800 and 900 numbers to use Automatic Number Identification (ANI) to add your number to their databases without your explicit permission. ANI also has the ability to capture your phone number even if consumer caller ID blocking is activated.
These companies can then use your phone number to collect data about your full name, address, income, and additional information from other telemarketing databases. This profile can then be sold to third-party services. When dialing one of these numbers, use a second phone number to keep your personal number private.
Credit Companies
Credit companies like Equifax and TransUnion make a majority of their revenue from the wealth of data they acquire about consumer's spending, debt, and other financials. This data is sold to credit card companies, banks and even employers who buy background checks on potential hires.
These credit companies are also susceptible to data breaches. Beginning in May of 2018, hackers were able to break into Equifax and obtain over 143 million American consumer profiles, accessing full names, phone numbers, addresses, driver licenses, social security numbers and more.
Accepting Terms of Service
When was the last time you read an entire Terms of Service before clicking agree? With Apple's Terms of Service at just over 20,000 words, it's no surprise that people don't take the time to read them. Blind agreements cost consumers privacy and give products and services the right to use and share your data on a whim.
If you're curious about Terms you've already accepted, or want to review a new one before agreeing, head over to Terms of Service Didn't Read to get a quick and dirty summary before you unintentionally hand over your privacy.
Stop The Calls Now
The more aware you are of tactics telemarketers and robocallers use to acquire your data, the better you will be to combat them. Your data is a privately traded commodity and your private information, no matter how secretive, likely exists in great detail online.
In addition to the steps above, add your phone number to the National Do Not Call Registry, protect your personal phone number by using a cheap second number, and sign up for a robocall blocker!
This post was originally published on Quora.