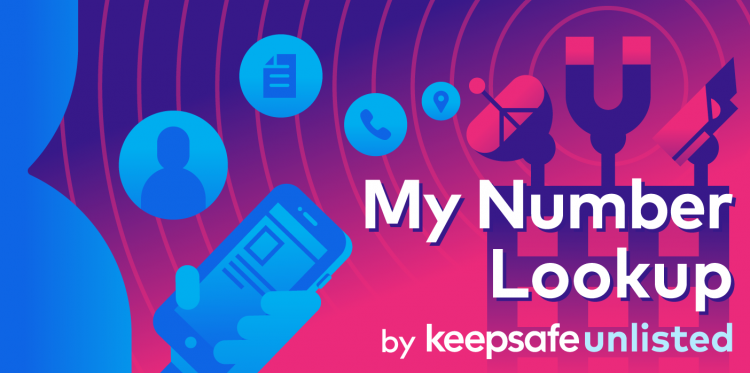 Keepsafe, the company dedicated to protecting people's personal space, launches My Number Lookup, a free service that uncovers what personal information is available publicly with your mobile number. On a mission to make privacy and security simple, Keepsafe created My Number Lookup to provide consumers with transparency into their digital paper trail and educate a new generation of tech users on what personal information may be accessible to anyone. The only service on the market that gives consumers direct insight into their hidden mobile profile, My Number Lookup also provides steps as to how consumers can protect their privacy.
My Number Lookup is activated via text message and reveals an individual's hidden mobile profile – information that can be collected by robo-callers and third parties. The service will first verify the user is the mobile number owner via SMS verification before it begins the number analysis. The personal data found and shared with an individual isn't kept by Keepsafe and is never shared with a third-party.
How My Number Lookup Works:
Entirely Over SMS: My Number Lookup is a text message service, where people begin their number analysis by texting "Hello" to a toll-free phone number
Phone Number Verification: SMS verification is required to prove that you are the phone number's owner
Number Analysis: Once verified, My Number Lookup will analyze publicly and commercially available information and send you a report with its findings
Get Your Privacy Score: Receive your phone number's Privacy Score, a calculation of the quantity and sensitivity of personal information publicly available with your mobile phone number
My Number Lookup's launch comes on the coattails of Keepsafe's recent launch of Unlisted, an iOS and Android mobile app that provides short-term burner phone numbers or permanent long-term numbers that give people more control over who has your personal number.
About Keepsafe
Founded in 2012 and based in San Francisco, CA, Keepsafe is on a mission to protect people's personal space. Keepsafe makes privacy simple in the digital world. More than 75 million people rely on Keepsafe's secure photo vault to protect their private pictures, videos, and documents. For people who want control over their privacy, peace of mind, and the freedom to be themselves, Keepsafe locks down personal items and Internet activity so they stay private.