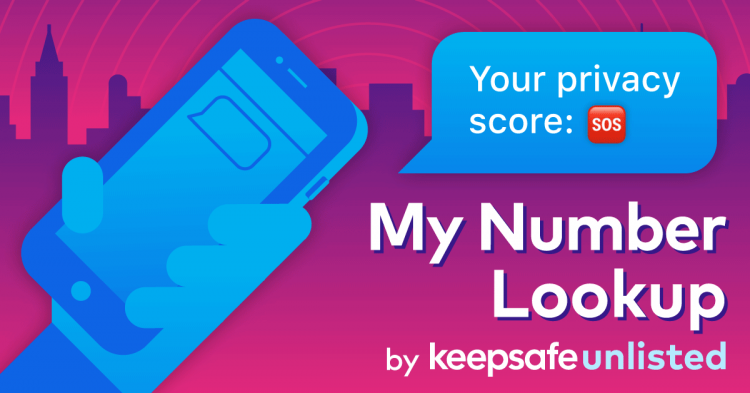 Despite loads of recent coverage surrounding data privacy, one important vulnerability in our daily lives hasn't yet hit the limelight: your mobile phone number. Many people hand out their number freely on dates, when they order items online, get a pizza delivered or summon a car to pick them up.
Ever wondered how third-party companies know so much about you? Telemarketers can find your full name and current address with just your phone number. This is only one example of the kind of private information that third-parties can uncover about you. They also have many, many other ways to get their hands on your phone number.
Today, we launched My Number Lookup. It's a service that works over text message and gives people in the U.S. and Canada more insight into the information that's publicly available with their mobile number.
We built this product to show people how exposed they are when they give out something as personal as their mobile phone number. Our intention is to educate people about what personal information is publicly available about them and to help them protect themselves.
When you text "Hello" to Keepsafe Unlisted's My Number Lookup service, you are essentially requesting a caller ID on yourself. The information our service returns shows you what personal information third-party data brokers can find out about you and sell.
How My Number Lookup Works
When you text My Number Lookup with your own phone number, we make a real-time request to data aggregation platform APIs – like those that power mobile services such as Caller ID. We find publicly available information about you (that we consider private – and you should too). We consolidate this information into a report that we send back to you over SMS.
Depending on the third-party data aggregation company, the API can return a wealth of your personal data associated with your phone number. When third-parties get your mobile number, they can find out who you are, where you live, your gender, age, and your friends and family's names.
Even if we don't find information about your number through the requests we make, that doesn't mean it doesn't exist on another data-aggregation platform.
How We Protect Your Privacy
In order to give you access to your hidden mobile profile, My Number Lookup uses your personal phone number to request information from data broker platforms.
Don't worry! We don't store your phone number on Keepsafe servers. But we do need a way to recognize you when you text us again. In order to do this, we run your phone number through a cryptographic one-way hash function. This turns your number into a unique string of digits.
For example, if the phone number (123) 456-7890 texted My Number Lookup, the number would look similar to e0d9d3862dfb270de65719d43749df5e after the hash function. This is how many storage services encrypt data and passwords.
This unique hash helps us determine that you are the same person who texted our service, without storing your personal phone number.
My Number Lookup also also receives information directly from data aggregators before we pass it on to you. We don't store or share any of the personal information retrieved, and this information can never be accessed by us or partners.
Try My Number Lookup
My Number Lookup is as simple as texting "Hello" to learn more about what companies know about you. Share the free service with your friends and family and let us know how you like it.
At Keepsafe, we're on a mission to make privacy and security simple for everyone. We want to demystify how companies get private information about you and help you protect your personal space. That's why anyone can get a second-phone number in the U.S. and Canada with Keepsafe Unlisted. Our second phone number app helps you protect your mobile phone number with short-term burner numbers or long-term phone numbers in any area code. Stay smart and keep safe!