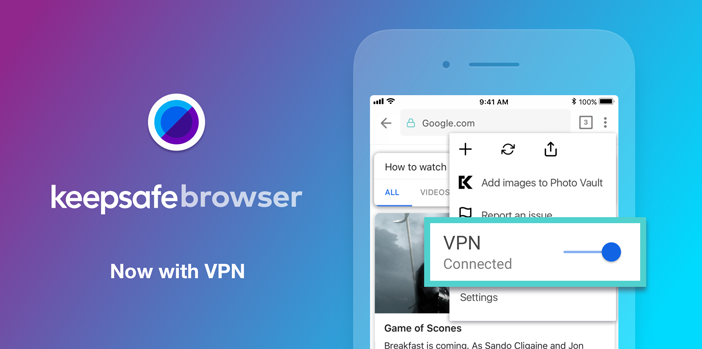 In June, we launched Keepsafe Browser for iOS and Android. Now you can turn on VPN whenever you use Keepsafe Browser. You can make your Internet browsing even safer, more secure and private. Here's why.
Keepsafe Browser with VPN:
Doesn't track your searches or browsing.
Gives you tabs to delete browsing history, urls, cookies and caching.
Allows you to turn on tracker blockers so sites you visit can't capture your data.
Tells you when to turn VPN on. Keepsafe Browser warns you when you visit unencrypted sites that aren't safe to use with sensitive data like credit card info. When is VPN turned on, your data is always encrypted on unsecured networks like WiFi hotspots. Your location and IP address is also hidden and there are absolutely no logs.
If you're using Keepsafe Browser with VPN:
Don't worry about sharing a device. Use Keepsafe's PIN-code password protection so no one but you can see you sites you've visited.
Get real browsing privacy at work. Your data is encrypted and no one can monitor what you look at online.
Go anywhere. Since VPN hides your location, you can easily visit websites without restrictions. There are no logs, and you can turn on tracker blockers.
Secure your data wherever you are. No matter what site you visit, with tracker blockers turned on, you can't be tracked, and it keeps your browsing data from advertisers. If you're using public WiFi at a coffee shop, in a library, hotel or airport, your personal data is encrypted and safe.
Keepsafe Browser with VPN has all the best features of Keepsafe VPN too!
Easy-to-use: All it takes is a tap and a swipe to turn it on VPN from Browser settings.
So Fast: it won't slow your browsing and searches down.
Completely private: All of Keepsafe's apps and features are designed to honor your privacy and protect you.
Free: For people who use Keepsafe Photo Vault Premium and Keepsafe Complete.
Try Keepsafe Browser and turn on VPN for a seven-day free trial. After that, pay only $9.99 a month for the safest and most private mobile browsing experience available.